OUR CUSTOMER IS A PETROCHEMICAL COMPANY WHICH MANAGES THE ACTIVITY OF THE STYRENES & ELASTOMERS, POLYETHYLENE AND BASIC CHEMICAL BUSINESS AREAS, COORDINATING THE PRODUCTION AND MARKETING OF THE ENTIRE PRODUCT PORTFOLIO THROUGH ITS THREE DIVISIONS.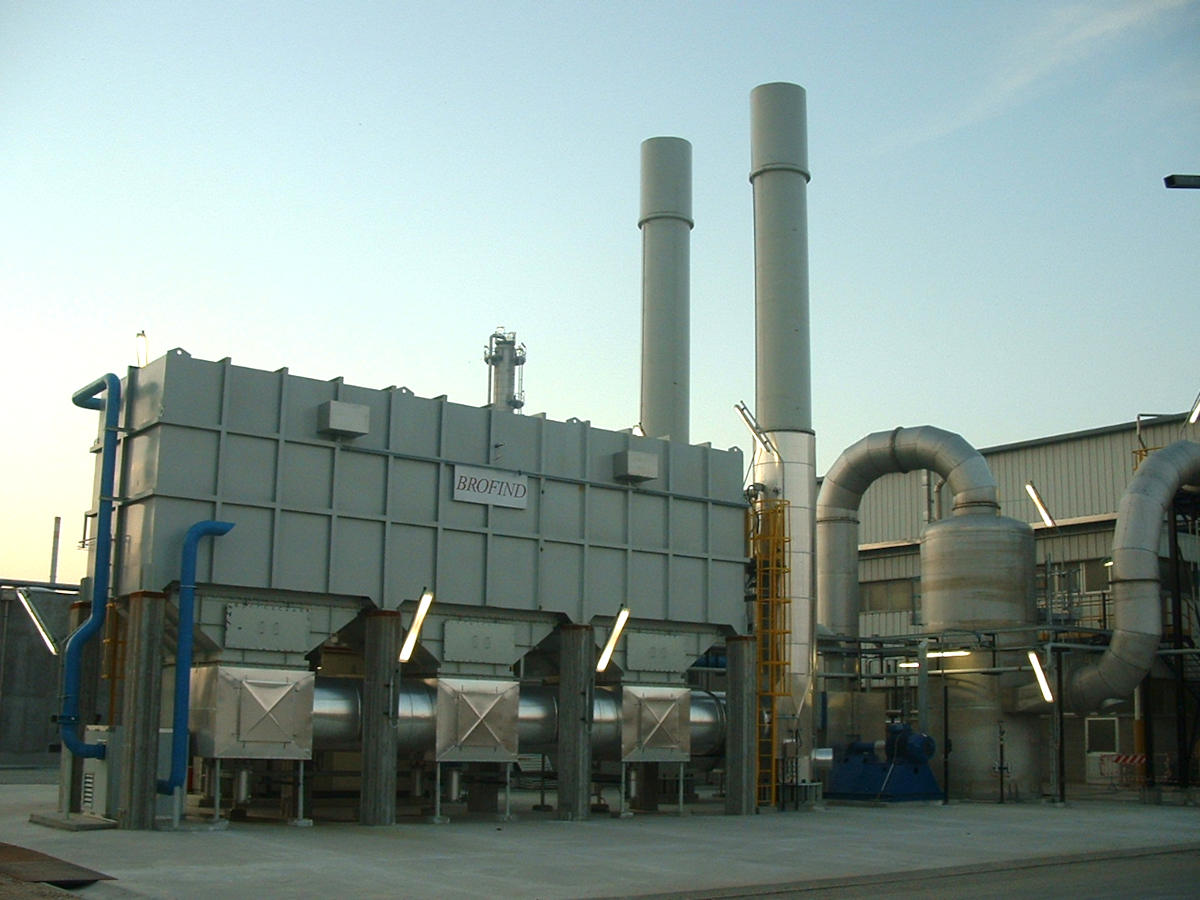 THE ENVIRONMENTAL IMPACT OF POLYDIENE FINISHING PROCESSES
The finishing lines of a polydiene plant produce atmospheric emissions containing V.O.C., polybutadiene rubber fine particles, calcium stearate dusts.
EMISSIONS CHARACTERISTICS
Air emissions from polydiene finishing processes have the following characteristics:
| VARIABLE | CHARACTERISTICS |
| --- | --- |
| Temperature | 30-80°C |
| Humidity | 40-100% |
| Presence of volatile organic compounds (V.O.C) | N-hexane |
| Presence of dusts in the emission to be treated | 0,5-1 g/Nm3 |
| Emission flow rate | 50.000 Nm3/h |
| Operational cycle | Continuous |
| Variability | Limited |
DEPURATION GOALS
The main depuration goal is to reduce as much as possible the emission into the atmosphere of pollutants harmful to the environment (V.O.C. and DUSTS), allowing compliance with the regulatory limits laid down for the individual pollutants; the presence of dust, in particular, must be reduced to a minimum to avoid any interference with the abatement plant, one solution is using an industrial VOC air filter.
THE SOLUTION THROUGH THE PROCESS OF REGENERATIVE THERMAL OXIDATION, PRECEDED BY WET ABATEMENT
In order to solve the environmental issue, marked by emissions with almost continuous air flow and considerable mass flows of pollutants, it was installed a regenerative thermal oxidation plant preceded by a section of wet dust abatement.
THE MEASURES IDENTIFIED FOR THE APPLICATION IN THE INDUSTRY OF POLYDIENE FINISHING
Regenerative thermal oxidation is frequently used to treat atmospheric emissions containing V.O.C.; as the presence of dust can cause clogging of the ceramic masses, a wet de-dusting section has been added.
The application in the polydiene finishing industry had to involve the identification and application of specific measures aimed at achieving the following objectives:
The achievement of the highest purification performance, through a specific sizing of the process parameters and the use of reversing valves with rapid handling and perfect seal
The optimization of the energy consumption, thanks to the use of a special burner able to reduce the secondary pollutants produced by the oxidation process
The use of a wet de-dusting section, suitable for dust control and to treat emissions with high dust content without clogging, and in the presence of high humidity
The use of materials resistant to high operating pressures and corrosion phenomena
The presence of an analyzer for the continuous monitoring of the pollutants emitted in the stack
THE RESULTS
The results achieved thanks to the combination of these technologies confirm the effectiveness of the solution, which allowed the accomplishment of the following results:
The achievement of values of concentration of pollutants in atmospheric emissions far below the regulatory limits required
The minimization of energy consumption
The absence of clogging phenomena, both in the oxidation and in the de-dusting section
No interference with the production processes upstream of the treatment plant